Nigerian singer Rema had setup a challenge for all females in Nigeria, insisting that anyone who wins the challenge will go out on a date with him, as long as the girl vibes to his newly released song "Ginger Me" several entries were put in, but one had to win and that is a Nigerian girl called "Nimie" for which she won via instagram. The singer had to share this information to the public, indicating she was going to spend the day with him.
Although few Nigerians think that she is not just a fan, but his girlfriend, and that he only had to use this means to introduce her to the world. A Nigerian said that Rema should have just gone on to take the girl on a date instead of insisting on having a fake challenge that had to stress a lot of the ladies into taking part in the challenge. Another Nigerian said that Rema should not have stressed anyone with the challenge, that the said girl Nimie will be the one to stream his songs online from now on(funny right?).
Rema and Nimie had a great time together, as both were seen hugging each other and sharing pleasantries, on what he termed a date with a fan.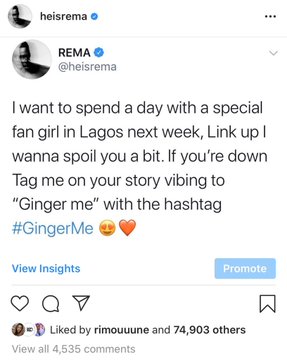 Ginger me ❤️ #Remafandate pic.twitter.com/pgPbLupolx

— REMA (@heisrema) June 25, 2020
Rema wore Slides to a date! See in this life just have Money!

— PorPorRee 💫 (@VEJ0ME) June 25, 2020